Join US on MARCH 5, 2022 from 1pm to 4pm to Celebrate the New Community Mural at El Sol Academy! El Circulo de la Vida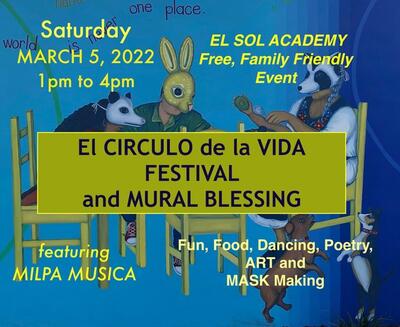 About this event
A full afternoon of outdoor music, dancing, food, hands-on arts activities, poetry, presentations and performances for the whole family.
Featuring: MILPA MUSICA (https://linktr.ee/MILPAMUSIC)
Muralists:Isidro (Chilo) Perez and Adriana Alexander
Traditional Artist: Adriana Martinez (hands on workshop)
The Poets of El Sol

The El Sol Dancers

Tacos and refreshments
Free parking at 10th and Broadway
Event is outdoors. We observe all health and safety precautions.
Please wear your masks.