On Saturday, March 5, 2022—I (John) visited the "El Círculo de la Vida" event at the El Sol Science & Arts Academy in Santa Ana (CA) from 1:00 to 4:00pm. The event was held in person and hosted by Sue Cronmiller—Poet and Founding Director of the Poetry Academy at El Sol. Sue has been a UC Links partner for decades and currently collaborates with PI Professor Ana Rosas (UCI Chicano/Latino Studies; History).
The main goal of the event was to bless the mural titled "El Círculo de la Vida" that local Artist Isidro Pérez García and his partner created with El Sol students. In addition to the blessing ritual, the event provided a set of activities that honored and celebrated—through poetry, dances, crafting, and music—the Chicano(a) and Mexican cultural heritage. 
You will be able to check some of the pictures of this beautiful event in this digital album. Also, you can check here a great video about this event.
UC Irvine: El Sol Conexión – "El Círculo de la Vida" mural blessing event
Site location:

El Sol Science & Arts Academy (Santa Ana, CA)

Partners:

El Sol Academy & UC Irvine 

Activities:

Poem interpretation, typical Mexican dances by El Sol students; live music; mask creation; mural blessing ritual

Number of participants:

~100 children; ~150 family members; ~15 artists (including poets, mural artists, and musicians)  

Number of graduate/undergraduate students:

6 undergraduate students
General Observations
The event schedule was as follows:
1:00-1:45 pm - Exploration of activities
Taco Truck 

Art Gallery 

Mask Making 

Slide Show of Mural Process 

Mexican Mask Display 

Poetry 
1:45 pm - Welcome, Poetry and Introductions
2:00 pm - Blessing of the mural
2:30 pm -Music and Dancing/ Activities/Poetry
3:30 pm -El Sol Folklorico Group Dance Performance (by the students of El Sol)
Focused Observations
As I walked into the El Sol Science & Art Academy on a sunny and windy Saturday (March 5th) afternoon all I could first see was a group of kids running around the playground and among the adults (family members and UC Irvine undergraduate students who were helping with the logistics of the event). A couple seconds later, Sue Cronmiller showed up and right away I felt (more) like home!
My eyes were later caught by the art that surrounded all the school setting; it was a 360 degree circle-shape "circuit-type" layout, starting with a table for taking attendance in the front, followed by a table with post-its where attendees could write down or draw an entry for the bilingual and multimodal (English and Spanish) "What is Community?" (¿Qué es comunidad?) poster.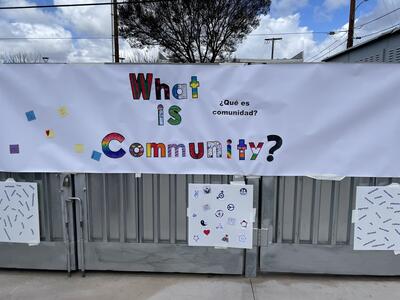 It was at this moment when I saw, among the attendees, the amazing Katherine Lazo from Whittier College who was visiting with two undergraduate students. A couple seconds later Stephanie Carmona (from Whittier as well), Ana Rosas (from UC Irvine—and Co-principal investigator of El Sol Conexión), Manny Aguilar and MaryAnn Aguilar (from La Clase Mágica in San Diego) joined the cheerful greetings-and-hugs scene (very UC Links style).  
Following the exploration of the site, I found two colorful posters that Kathy, Steph and I could not help having a photo with (see digital album). I could also see on my left a Mexican food truck where kids and families were getting free tacos for the event (food makes anything even better, right?)—sadly, it was not until after I finished my visit that I realized I forgot to get food!
In the back area of the setting there were two tables with books of poetry written by the students from El Sol and edited by Sue Cronmiller (some of you might have received a copy of the book at the UC Links conference). There were also books with historical information about Mexican masks (very cool way of integrating art and history!) and an exhibit of masks designed and created by El Sol students. Finally, in front of the book tables and the mask was the main area, where attendees could sit and enjoy the "central stage".
At around 1:45pm Sue Cronmiller gave a welcome speech followed by a bilingual poem that she performed with Jeremy Juarez (a high school student that used to be a regular participant in El Sol). After the poetry performance, Sue introduced local artist Isidro Pérez García who—along with his partner—explained the process of the creation of the "El Círculo de la Vida" mural.
During the 2021 academic year, Isidro wanted the El Sol students,who were learning remotely due to the pandemic, to be part of the artistic creation. He was able to get the support from teachers who helped engage the students through weekly reflection questions related to the pandemic, these questions were—but not limited to: 
What has changed during the pandemic?

What has not changed?

What is your opinion about wearing masks?

What do you think of the different ways people are connecting and communicating with others during the pandemic?
Isidro integrated the students' input, created the graphical representation, and, during Summer School, the second, third, and fourth grade El Sol students were able to join and help paint the murals. 
Following Isidro's and his partner's thankful words, the blessing of the mutual ritual began. This beautiful ritual had musical support along with the touch of the incense that was burning in a clay container held by the community member who was leading the ritual. All of the community members followed from the central stage to the front of the school—where the mutual is located- blessing all of the sections of the mural. 

After the blessing ritual, Milpa Música (from San Bernardino, California) took over the stage and delighted the attendees with amazing live music. The performance was followed by a series of beautiful dances prepared by El Sol students that honored and celebrated Mexican and Chicano culture. At 4:15pm Sue shared some final words and thanked the attendees for their presence and participation in the event.
Reflections
Being able to re-connect and re-engage with UC Linkers across California (UC Irvine, Whittier College, La Colonia de Eden Gardens—UC San Diego—and the El Sol and Santa Ana community members) after two years of pandemic was fascinating and inspiring. Seeing how our network is continuing to re-think and re-imagine the ways we can connect with our local communities despite the challenges and how the community members are happily enjoying and participating in these initiatives is a fulfilling experience. Union and collaboration make our network stay strong (la unión hace la fuerza). 
Having the chance and the honor to participate in this beautiful event was an opportunity to reinforce the value of multiliteracies. Activities like the bilingual and collaborative community poster allowed the students and their families to use multimodal literacies (e.g. writing and drawing) as ways of making meaning and communicating a message to the community they belong to while, at the same time, it became a space to appreciate, honor, and celebrate culture, identity, diversity and language. The dances, the poetry, as well as the mural itself are also enduring representations of the multiple ways that children, families, and community members can actively engage in co-creating authentic and powerful representations of their cultural identities. 
Families from the Santa Ana community were full of joy and laughter as they navigated the different moments of this event. I strongly believe that every attendee, regardless of their role in the event, walked away from El Sol with a smile on their face, a great memory to treasure, and full of appreciation for the diverse and multicultural community they belong to.